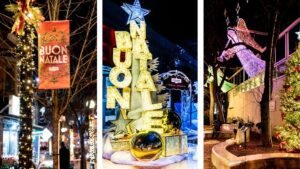 We all know it's been a hard year. A year of uncertainty, trials, and tribulations that have tested the very bedrock of our community.
We withstood it all and want to give the biggest hug possible to every single person that has chosen to smile, be kind and calm, supporting all the local businesses and each other as we moved through the 537 months that made up 2020.
Alas, as with much of Little Italy's events this year we've had to cancel the 2020's Cavalcade of Lights. However, after discussion and debate, we have decided to keep the lights on and wrap Little Italy up in Christmas warmth.
We really hope you will take the time to visit us on College Street where you can shop the small businesses, eat local, and take a selfie at the College-Grace parkette! Just remember to tag #tolittleitaly when you do!
We've kept the lights on for you so please #supportlocal so we can keep them on after we all get through this.